I just heard (belatedly) that after 40 years of writing for The Village Voice, Deborah Jowitt has decided to stop contributing to that paper because she felt pressure from the editor to submit more negative reviews. (Her open letter explaining her thoughts is posted here, along with the editors response: http://www.danceusa.org/ejournal/post.cfm/a-change-at-the-village-voice)
Dance criticism is not thumbs up or thumbs down. What Deborah has done consistently over the years, better than any living writer, is to see and respond to dance. She is one of the most articulate observers of the form and this is her genre of criticism. It takes much more skill to be able to understand a dance than to slam it.
Read the rest of this entry »
Having watched many friends dance throughout their pregnancies, I had no idea how challenging it would be to stay active during my own. As I write this, I'm 27 weeks along and expecting a baby girl in late August. I had just recovered from the overwhelming fatigue and omni-present naseau of the first trimester, when I was diagnosed with a "subchorionic hematoma" which is a fancy way of saying I had a small glob of blood trapped between my uterus and placenta. Not a big deal, except that my OB (who clearly had no idea of my profession) said, "This shouldn't affect your work at all, but don't exercise until at least two weeks after this goes away." Huh, not affect my work? How are you supposed to dance and choreograph without exercising? I started fantasizing about a conceptual, talky piece I could do while reclining on a chais lounge eating bon-bons.
Read the rest of this entry »
My brother Josh has been making a documentary about my work. He cut together this trailer for our upcoming season at the Baryshnikov Arts Center (http://www.timelapsedance.com/BAC_2011). Check it out!
I'm working on a new piece entitled Turbulence which aims to visualize patterns of air disturbance into kinetic forms. So I was delighted to come across two videos that show the air doing the work of an invisible Loie Fuller dancer, whipping fabric into swirling shapes. The first clip shows a dust devil making a tarpaulin dance. The second shows a choreography for a ring of fans and silk scarf. Enjoy!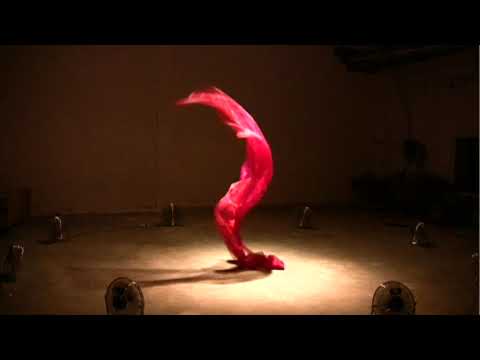 Never after reading a book have I felt such an upsurge of gratitude to an author as when I finished Carolyn Brown's Chance and Circumstance: Twenty Years with Cage and Cunningham (Alfred Knopf, 2007). This volume, which  chronicles Brown's twenty-year career as a dancer with Merce Cunningham's dance company took her thirty years to write. Brown depicts herself as a conscientious, perfectionist type of dancer who struggled over the years to move large. As a writer she displays the same meticulous tendencies. Both as performer and as writer, however, her extraordinary attention to detail helps reveal a passionate devotion to the material.
We are lucky that Brown kept a journal and was a prolific letter writer throughout her performing career. She recounts every major Cunningham performance and tour, from the birth of the company at Black Mountain College in 1953 until her last appearance in 1972 at the Théâtre de la Ville in Paris. You feel like you were there, hearing about the splintery raked floors, the exhausting travel conditions, the endless rehearsals, the sometimes uproarious sometimes adulatory audience response. But most marvelously told is the experience of what it was like to dance Merce's works, so many of them, and on so many different stages all over the world.
The narrative begins with Brown and her then-husband composer Earle Brown moving to New York in the early 1950s and being swept up in Cage and Cunningham's artistic circles. A vivid view of a city's bygone era emerges, a time of grit, possibility and boundless energy. Brown expresses the most nostalgia for the company's early touring years when, with Cage at the wheel of a VW microbus, life and art intertwined.  Road trips included jaunts for mushroom picking and  company cook-outs. Cage leaps off these pages as an uncommonly generous, affable, kind man, not without flaws, but fiercely devoted to Cunningham and a tireless promoter of the company.
Added to our picture of Merce, the emotionally elusive, brilliant and prolific choreographer, is Merce-the-dancer who thrived on performing. He didn't miss a single one of the seventy performances scheduled on the grueling 1964 world tour despite a serious illness and injuries. Brown shows us how he ate up the stage at every opportunity with dramatic intensity. She also suggests that, contrary to the oft-stated notion that Cunningham's dances didn't have meaning aside from the movement itself, some of his dances did have stories, even if he never shared these with the dancers.
The book also traces Robert Rauschenberg's ascension from poverty to celebrity. For a period, Rauschenberg (who was already becoming famous) toured as the company's scenic designer and stage manager, sweeping floors, composing the lights and building ingenious custom-designed sets from scratch in each new locale. Perhaps the meatiest part of Brown's book is her description of how the collaboration between Cage/Cunningham and Rauschenberg was torn apart by his runaway success. Brown sheds light on the inter-personal dynamics of these three extraordinary artists without ever resorting to gossip.
If there's a flaw in the book it's in exhaustiveness. At 600 pages (according to Brown's acknowledgments cut down from 900!) this is more chronology than most lay readers would want. However, as a resource for the scholar or Cunningham fan, this is a treasure trove. Personally, I enjoyed every page and finished it with a lump in my throat. Thank you, Carolyn Brown, thank you!
"The highest goal is to combine innovation with memory, to build with a consciousness of the past. That way one can create something new through an act of will, not merely by accident." – Pierre Boulez as quoted in Caroline Brown's Chance and Circumstance (p.41).
This quote just about sums up my whole "time-lapse" philosophy. I find myself saying this in different ways every day. Aside from this passage, am abs0lutely loving Chance and Circumstance so far!
I've always been into paper. When I was a kid someone gave me an origami book and within one weekend I made every crane, mushroom, dinosaur, tulip, nun, mask, etc. pictured in it. On Tuesday evening at the New Museum, I picked up this little gem: "Folding Architecture: Spatial, Structural and Organizational Diagrams" by Sophia Vyzoviti. Since then I haven't been able to stop making paper sculptures.
So why the obsession with paper? "The paperfold is a dynamic artefact, unstable and evolving. It bares the traces of the activity that brings it into being: scores, creases or incisions drawn in the surface of the paper."(p.9) These words about paper folding clearly relate to dance. Dance generates dynamic spatial trace forms that are fleetingly visible. However "unstable" paper art is, it's an order of magnitude more concrete than choreography.
A single sheet of paper may be sliced open, folded, curled, wrapped in on itself, tangled, braided or wound, in ways that suggest bodily movement. The plane of the paper abstracts spatial relations, makes them visible. My special niche in dance–working with silk after the style of the great Loie Fuller–does a similar thing. My silk "prosthetic" costuming amplifies every action and exposes its planar dynamics.
All this is pretty heady, but truthfully I'm being guided by instinct and compulsion. It's so satisfying to be able to make in just few minutes–out of a single sheet of scrap paper–something that is a tangible (if not indelible) marker of gestural action.
I know this relates to the new choreography that is stewing in me now. Cutting the paper multiplies it's planes so that instead of one "dancer" I have a whole corp de ballet to interweave. In ways I don't fully understand, this paper exploration is helping me imagine solutions for spatial problems that I will eventually visualize with moving bodies and swirling silk.
While I was in Lagos, someone asked me what is the difference between "modern dance" and "jazz." Generally, the dancers I met in Nigeria (see "Trip to Lagos, Part I") had very little exposure to modern dance and were curious, what exactly is this thing. I really thought long and hard about how best to define something which can mean so many different things to so many different people. And I still don't have a pithy answer.
I don't think you can grasp the differences between the genres without understanding their historical trajectories. My initial answer was that Jazz is a style of dancing. It's African-American in origin and has a certain range of movements. It's usually performed to certain kinds of music (jazz, pop, rock, musical theater, etc.). And, while it can take diverse forms and has evolved over the past century, it has a recognizable character.
Modern dance, I said, is a broader category (although I'm not sure I still agree with that). I tried to give a nutshell of American modern dance history. I sketched out the "family tree" of modern dance, jotting down on a piece of paper a bunch of names: Loie Fuller (my muse), Isadora Duncan, Ruth St. Denis, Denishawn, Martha Graham, Doris Humphrey, Jose Limon, Alvin Ailey, Paul Taylor, Merce Cunningham, John Cage, Judson, etc.. Ok, boiling it down to pop quiz points: Graham – "contraction & release"; Humphrey-Limon – "fall & recovery"; Cunningham/Cage – "chance procedure".
But all these names and bullet points were pretty meaningless to someone without an historical context. While the term "modern dance" can be understood as applying to distinct techniques arising in 20th century, today it can refer to almost any form of movement, any technique. What it implies is an ethos of experimentation and a concert orientation (as opposed to other, more "popular" forms of presentation).
The history of modern dance is one of continual innovation and rejection of what came before. So naturally that accounts for some of the difficulty in classifying it. And yet, for all the supposed generational innovation, there is also much tradition preserved in the array of modern techniques practiced today. I think this sense of heritage is important to the form, perhaps as much so as its perpetual renewal.
Any definition is reductive, but you have to try to explain things. The myriad dance forms that exist today often have separate origins with trajectories that may overlap, converge or diverge as time and fashions pass.
Appropriately a week after visiting Lagos I found myself in Virginia on a program tribute to the three muses of early modern dance (Fuller, Duncan & St. Denis). More on that in the next post!
I just got back from Lagos, Nigeria where I had a residency to teach and perform at the Society of Performing Arts in Nigeria (SPAN). During my stay, I taught two master classes at the studio, worked with four SPAN dancers on flag dancing and performed a solo at the Lebanese Women's Society gala.
SPAN was founded by Sarah Boulos who is a passionate dance fan and advocate for the arts. Right now the physical complex consists of two small dance studios occupying the former offices of a real estate developer. But Sarah has ambitious plans to expand the center into a complex including an amphitheater, studios, classrooms, dormitories, a cafeteria, gardens and a library. The students take classes in hip-hop, Latin, contemporary (African) dance, jazz and ballet (Russian style, with a former Vaganova Academy teacher). They have little or no exposure to "modern" dance. It's a special experience to teach people who are so eager to learn what you have to offer and who have no pre-conception about what you're going to do.
My master classes incorporated the use of fabric, derived from my Loie Fuller-style work. The concept behind the fabric work is about tuning into energetic forces. Simply by standing, you displace air. When you move, you cause rippling currents to emanate from your body. A silk scarf can make these swirling vortices visible. By seeing and becoming aware of such forces, you can begin to control the impact you have in the space, literally. The dancers took to the fabric immediately and improvised with fluid invention. Slim, a tall lanky fellow, moved in an especially captivating way with his scarf, drawing on his training in capoeira.
Above are some photos from the classes. More thoughts to follow.